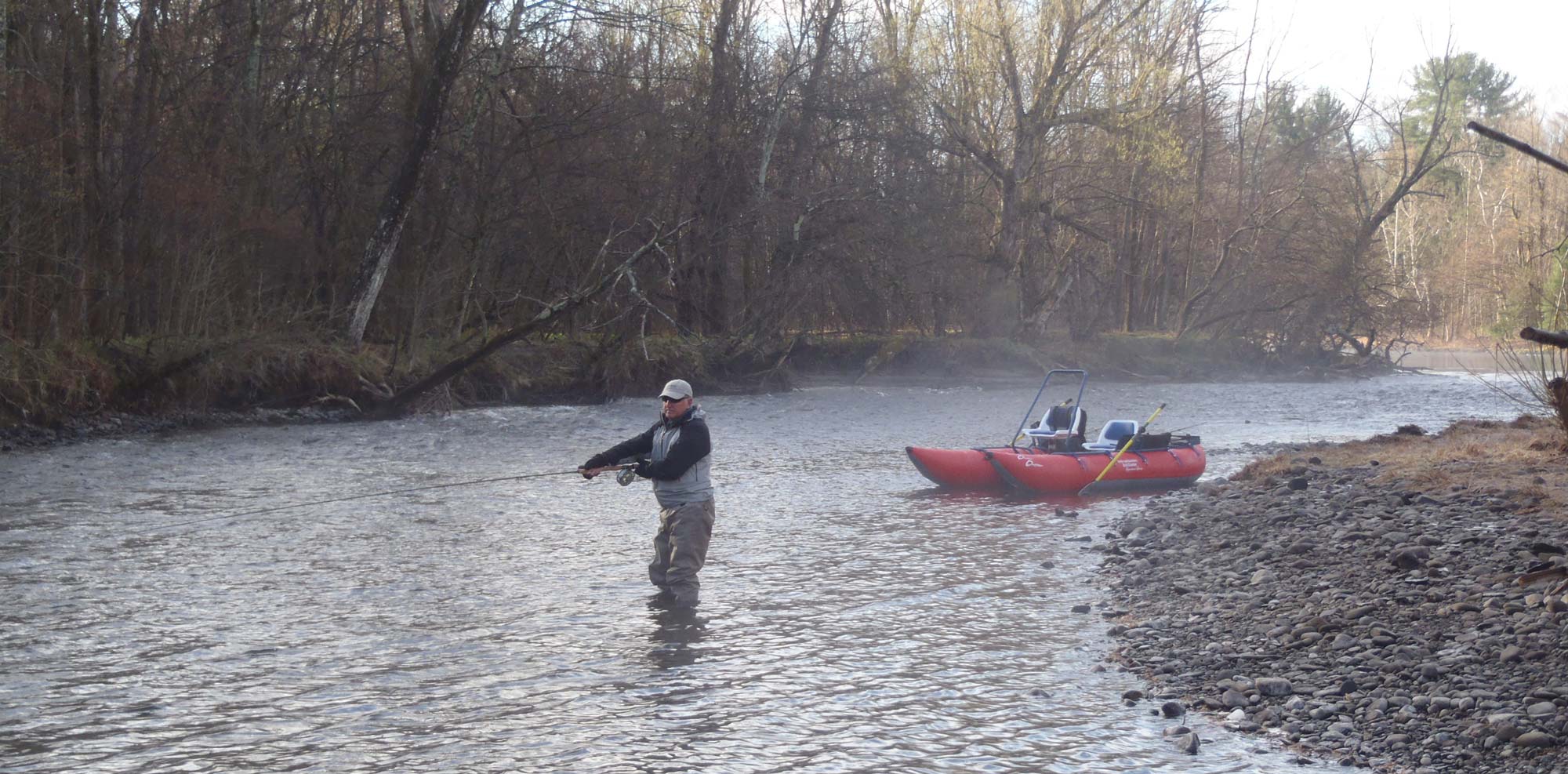 Salmon River Fishing – Pulaski, New York
Come join us to fish the famed Salmon River of New York. The Salmon River flows from the Tug Hill Plateau, through the villages of Altmar and Pulaski, before emptying into Lake Ontario. The Salmon River boast some of the most impressive steelhead runs in the world. It truly is the land where fish are measured in pounds not inches.
Steelhead trout, a native to the west coast, are a fish that spawns in freshwater tributaries but spends the majority of its adult life at sea.  Unlike the Pacific strains of salmon who share many of the same spawning grounds and die after spawning, steelhead will return to sea after spawning and make multiple spawning migrations.  Because of their size, power, and abundance, both the salmon and steelhead migrations are a tremendous draw for anglers.  Recognizing the potential of creating a huge sport fishing industry and an effort to keep bait fish numbers in check, Chinook or king salmon, coho salmon, and steelhead were stocked into the great lakes. Though the lakes are not salt water, the fish manage to thrive here, with populations reaching world class numbers, and growing to sizes equal to their counterparts on the west coast.
Here is how the migration works on the Salmon River.  In late August and early September the first king and coho salmon start to show up in the river.  The early arrivals are soon followed by massive waves of salmon moving upstream to their spawning grounds.  Because these fish are so big and so plentiful, they draw huge crowds of anglers looking for a shot to catch a trophy of a life time.  However this run is fairly short lived.  By mid to late October many of these salmon have finished spawning and died, completing their cycle of life. Now that the salmon are all but gone, the crowds begin to thin out, and the smell of millions of salmon eggs and decaying salmon carcasses fill water, drawing in the hungry steelhead.  Waves of steelhead start entering the river in late October and November. During this time brown trout are also entering the river to spawn.  Steelhead will continue to enter the river through the winter months and into the spring.  The majority of the steelhead will spawn during March and early to mid April.  After they finish spawning, they will begin a migration back to lake Ontario, aggressively feeding along the way.  We call these fish drop backs.  The main food source is still eggs, but also salmon fry are very abundant and with warming water temperatures aquatic insect life becomes more active, giving these fish a variety of foods to replenish nutrients lost during spawning.  By the first week of May most of the steelhead have made their way back to Lake Ontario.  We try to book trips during the most active times of the run.  So late October and November are prime time for the fall and the month of April for spring.  A fishery of this caliber in the Northeast is a blessing.  If you have never made the trip, now is the time.  This is a trip that every angler should make!
We book these trips on a fixed full day rate, drift or wade, multiple day discounts available.  Trips may be walk and wade, drift boat, or both.  This is left to the guide's discretion as water flows, fish location and angling pressure may play a role in how our day is laid out. The goal is to keep you in the fish and away from the crowds that they may draw.  For this trip, rods of 9′ or greater in length are preferred for both spin and fly anglers.  For fly and spey anglers, 6wt-8wt rods are ideal.  For spin rods, medium light  to medium heavy action should be sufficient.  Please feel free to call or email with questions and to book your dates.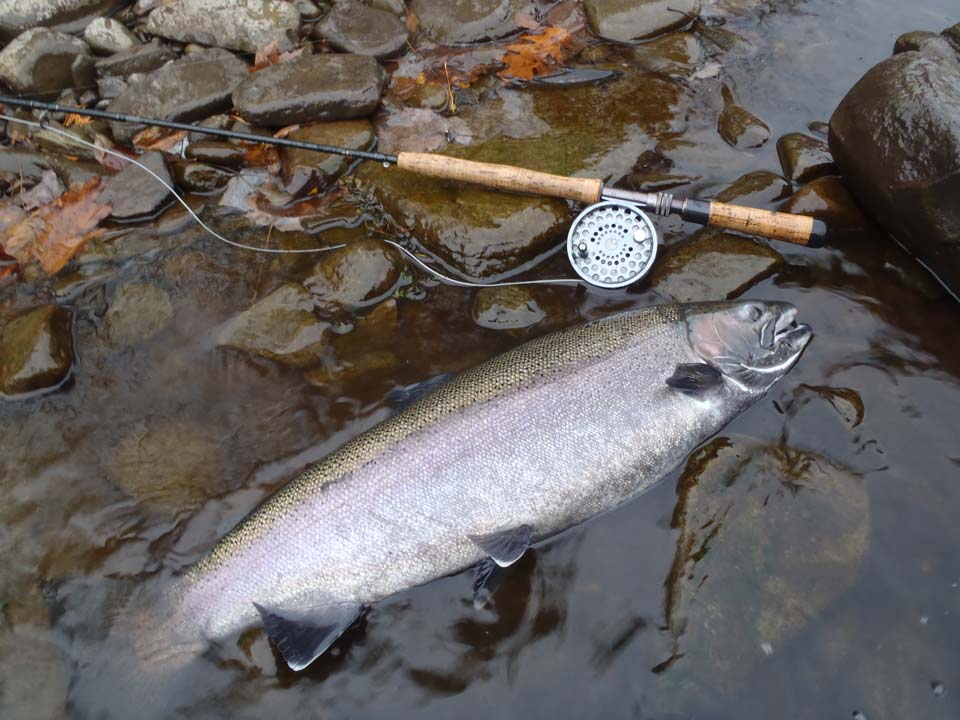 Pictured above is a beefy fall run steelhead trout.  Steelhead at this time of the year will blow your mind with knuckle busting runs well into the backing and often some impressive aerial displays, perhaps the hardest fighting fish you will ever encounter in freshwater.  Steelhead can be targeted in the Salmon River from mid October through early May, and even during some of the summer months.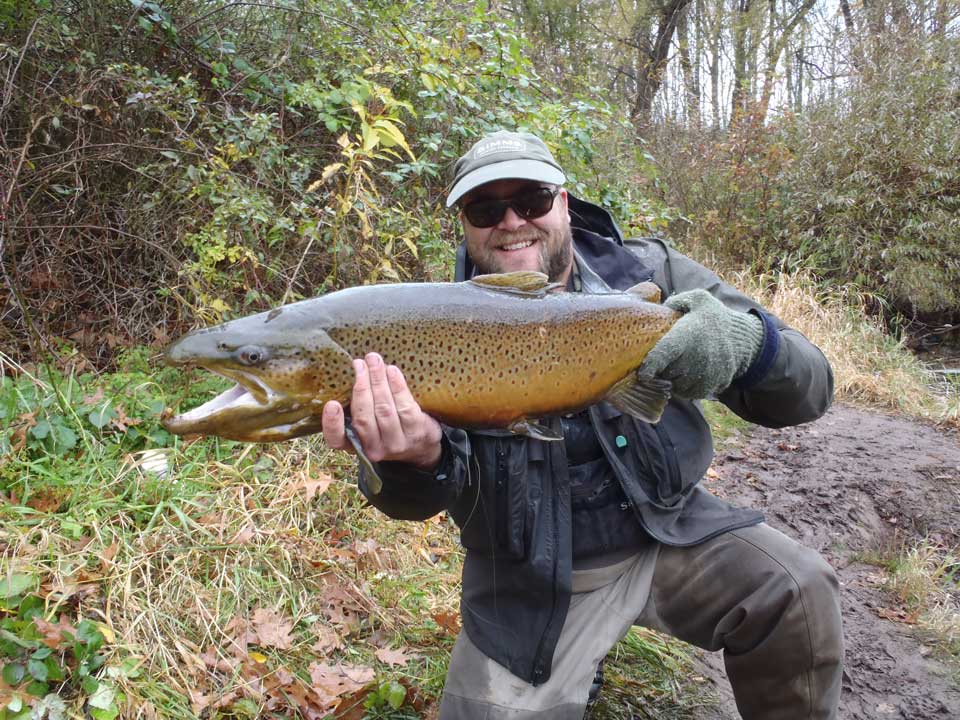 Pictured above is a fall run brown trout from the Salmon River.  Numbers of brown trout in the Salmon River are minimal in comparison to the salmon and steelhead.  However the opportunity to catch a real trophy is still pretty good.  There are other tributaries to Lake Ontario we fish in close proximity to the Salmon River, where brown trout can be the primary target during November.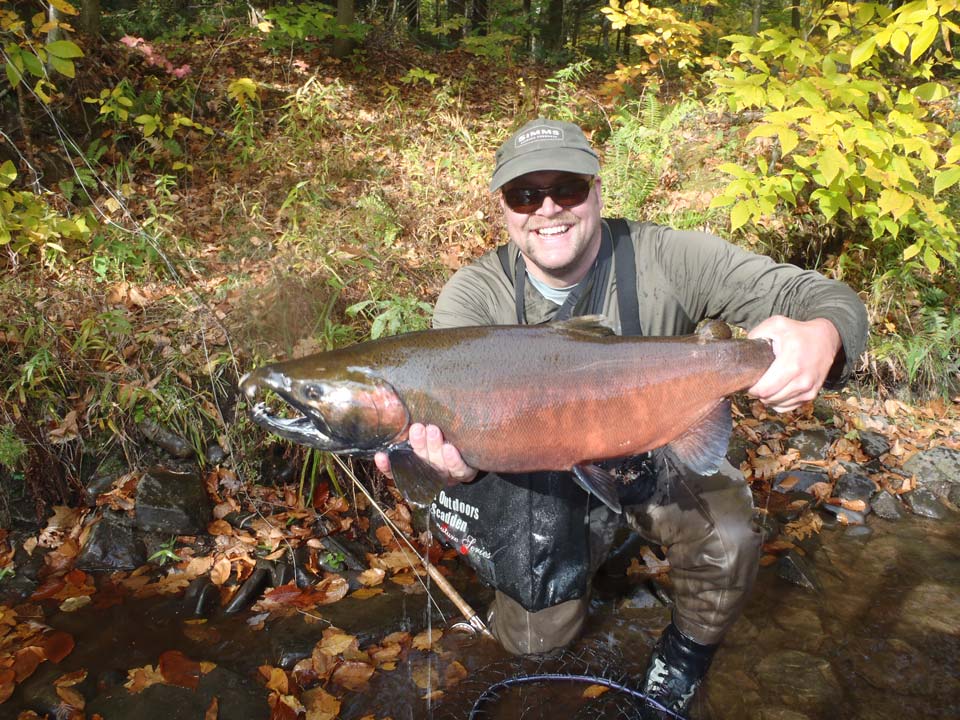 Pictured above is a coho salmon from the Salmon River.  Similar in size and power to steelhead, and brilliant spawning colors make them a fun fish to target and a great grip and grin for the camera.  Cohos are known for running the river very quickly, and not always being easy to come by, but if you're in the right place at the right time, it can make for an exciting day.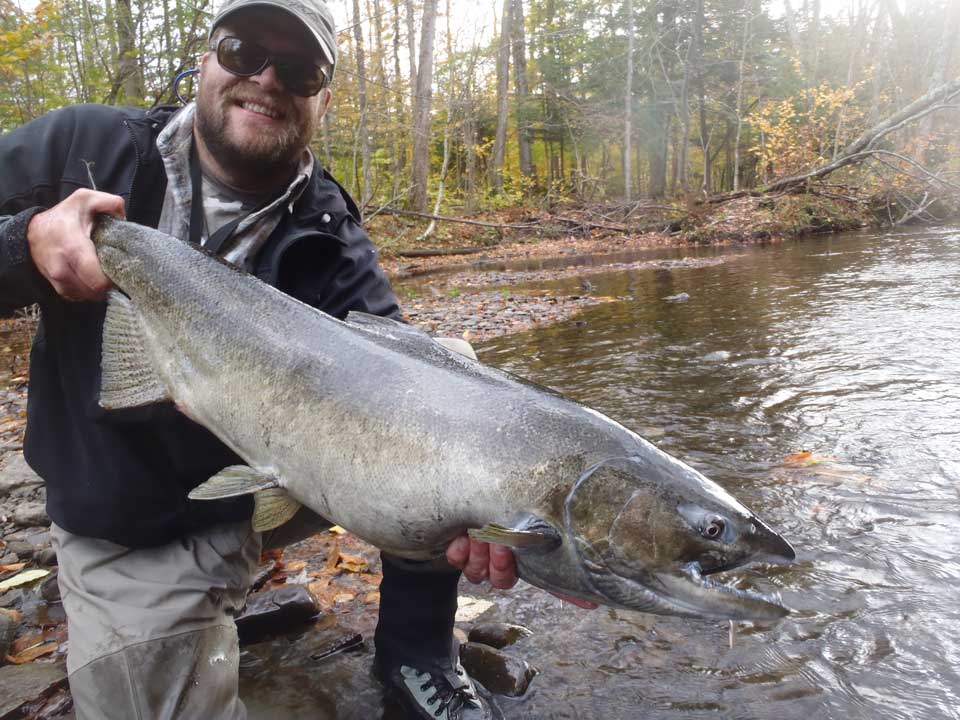 Pictured above is a Chinook or king salmon.  Known for their great size, kings are a huge draw to the Salmon River, but like the coho their run only last a month or so before completing their spawn and dying.